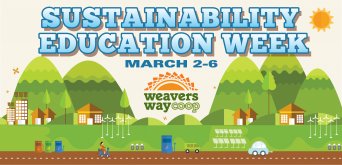 This lunch and learn will be a space-centric presentation on why Zero Waste is critical in the 21st century. You will learn some interesting facts about the truth behind recycling and incineration as well as some details on how the village of Mt. Airy embodies Zero Waste principals and how you can help.
Facilitated by Alisa Shargorodsky
, Founder/ECHO Systems-
A Hub for Environmentally Conscious Habitat Organizations
Alisa's professional background is in Urban Design and the circular economy. Throughout the years she has held a series of diverse positions ranging from the Programs Director of the Philadelphia Watershed Stewardship Program funded through the Philadelphia Water Department and sustainability coordination and consulting for various companies throughout the Tri State area. Her research focuses on solid waste prevention (source reduction) and systems design with integration of Global Information Systems.
Alisa currently works with Weavers Way Coop, and this lunch and learn is given in partnership with Weavers Way for their March Sustainability Education Week!